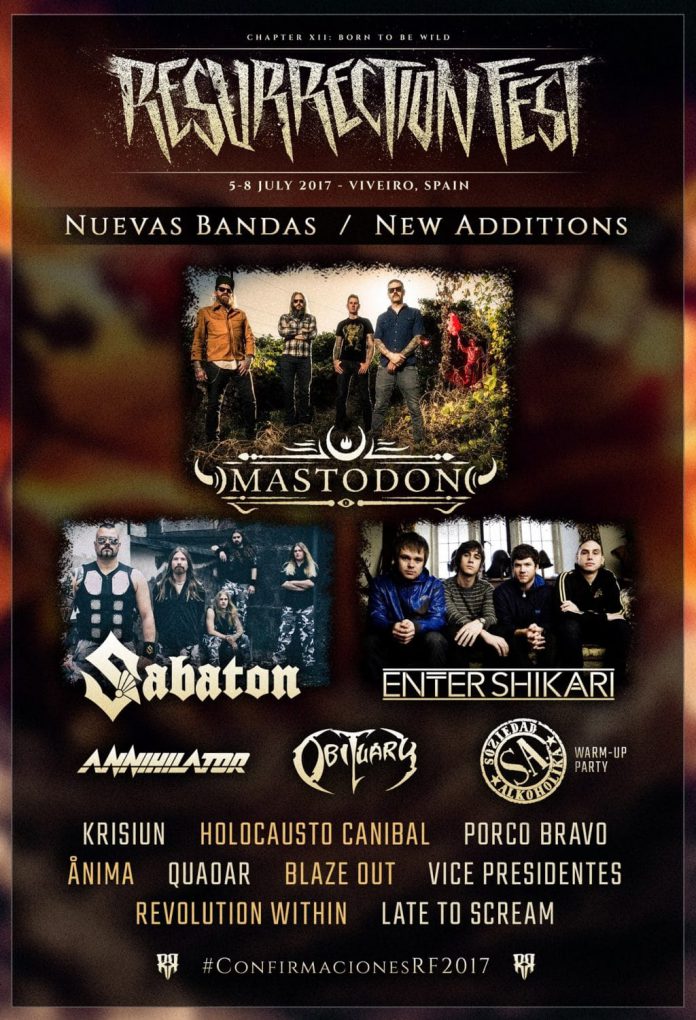 Las bandas Mastodon, Sabaton, Enter Shikari, Anihilator, Obituary, Krisiun, Holocausto Canibal, Revolution Within, Blaze out, Quaoar, Porco Bravo, Vice Presidentes, Anima, Late to Scream y Soziedad Alkoólika se unen al cartel del Resurrection Fest 2017 que se celebrará en Viveiro (Galicia) del 5 al 8 de Julio.
Estas últimas confirmaciones se suman a las ya confirmadas previamente Rammstein, Rancid, Dropkick Murphys, Airbourne, Suicidal Tendencies, Arch Enemy, Agnostic Front, Mayhem (playing "De Mysteriis Dom Sathanas" in full), Eluveitie, Architects, Red Fang, Comeback Kid, Napalm Death, Animals As Leaders, Terror, The Bouncing Souls, Orange Goblin, Snapcase, Korpiklaani, Pentagram, Warbringer, The Devil Wears Prada, Truckfighters, The, Black Dahlia Murder, Deez Nuts, The Vintage Caravan, Lost Society, Alcest, Northlane, Karma To Burn, All Out War, Taake, Bury Tomorrow, Wisdom In Chains, Conan, Lords of Black, Wolf Down
Mantar, D.Y.S., Benighted, Adrift, Besta, The Inspector Cluzo, Malevolence, Stray Train, Noctem, Vita Imana, Bastards, Guerrera, Legacy of Brutality, Reality Slap, Böira, Mutant, CRIM, Killus, Morphium
Trashnos, The Blackjaw, El Altar del Holocausto, Teething, Bala, Tragic Vision, Brothers Till We Die y
One For Apocalypse.
Abonos ya a la venta en la web oficial del festival.