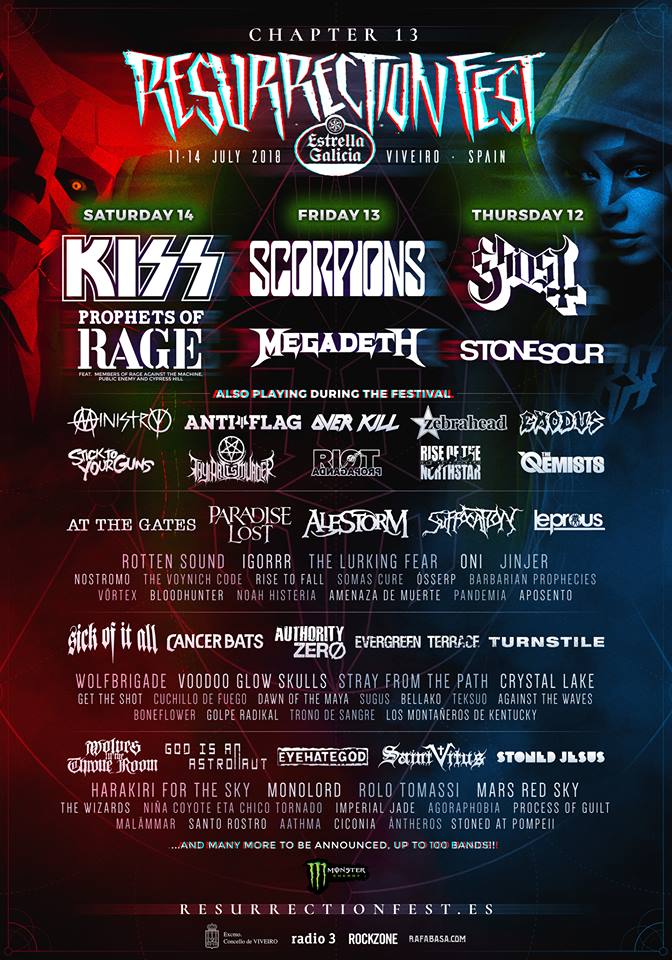 Resurrection Fest continua confirmando nuevos nombres que se suman al cartel de su próxima edición, a celebrar en Viveiro (Galicia) del 11 al 14 de julio de 2018.
El line up oficial con los cabezas de cartel distribuido por días y con las bandas confirmadas hasta el momento son las siguientes:
Jueves 12: Ghost y Stone Sour
Viernes 13: Scorpions y Megadeth
Sábado 14: KISS y Prophets Of Rage
Además estarán actuando las siguientes bandas a lo largo de los tres días:
Ministry, At The Gates, Anti-Flag, Overkill, Alestorm, Exodus, Riot Propaganda, Zebrahead, Saint Vitus, Suffocation, Thy Art Is Murder, Cancer Bats, Evergreen Terrace, Stick To Your guns, The Qemists, Leprous, Voodoo Glow Skulls, Rise of the Northstar, Igorrr, Stoned Jesus, Monolord, The Lurking Fear, Rotten Sound, Jinjer, Harakiri For the Sky, Get The Shot, Rolo Tomassi, Mars Red Sky, The Voynich Code, Nostromo, Imperial Jade, The Wizards, Sugus, Dawn Of The Maya, Teksuo, Trono de Sangre, Somas Cure, Bellako, Against The Waves, Malämmar, Ósserp, Ciconia, Aposento, Bloodhunter, Aathma, Ànteros, Santo Rostro, Boneflower, Montañeros de Kentucky, Pandemia, Paradise Lost, Sick of It All, Wolves In The Throne Room, Eyehategod, Turnstile, Authority Zero, Wolfbrigade, Stray From The Path, Oni, Crystal Lake, Process of Guilt, Cuchillo de Fuego, Rise To Fall, Niña Coyote Eta Chico Tornado, Agoraphobia, Vörtex, Barbarian Prophecies, Amenaza de Muerte, Stoned At Pompeii y Noah Histeria.
Según la propia organización, más del 60% de abonos de 3 días se han vendido y quedan menos de 3.000 de entradas para viernes y otras tantas de sábado. Todos los abonos y entradas de día se pueden adquirir online desde la web oficial del festival.