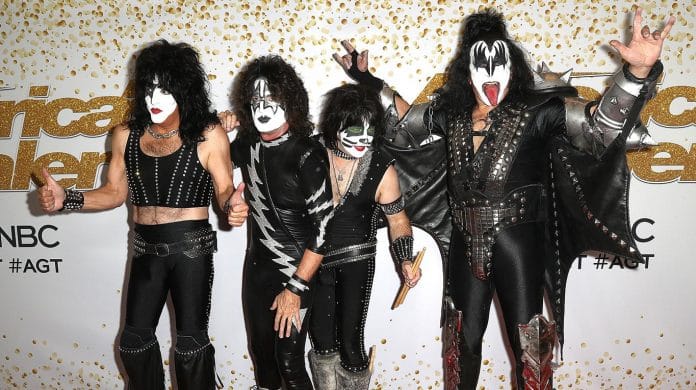 En una reciente conversación para "All Access", un especial de la radio dirigido porDan Neer, los componentes de KISS Gene Simmons, Paul Stanley, Tommy Thayer y Eric Singer hablaron sobre su última gira "End Of The Road".
Preguntado sobre los últimos momentos del último concierto de la gira, Stanley dijo lo siguiente (escucha el programa completo más abajo):
"No quiero decir que sea agridulce, porque no hay nada amargo en eso. Sin duda será increíblemente emotivo, porque tengo mucho que recordar en todo lo que la banda ha hecho posible, que los fans han hecho posible, y quiero creer en el último concierto que hice todo lo que pude. Y me iré con orgullo".
Por su parte, Simmons añadió lo siguiente:
"Soy un hombre bastante grande, mido 1.8 metros, probablemente estoy cerca de los 110 kg. No soy un hombre flaco y estoy orgulloso de ello. Pero sé que voy a llorar como una niña de 12 años que tiene a alguien poniéndose de pie en el último espectáculo. Lágrimas de felicidad, quiero decir".

"¿Cuánta gente en el mundo puede hacer lo que hemos hecho? Debes tener esa perspectiva. Porque KISS siempre ha sido más que una banda. KISS ha sido una fuerza unificadora para diferentes generaciones…"

"Cuando ves a un niño de cinco años en uno de nuestros conciertos que tiene maquillaje KISS y está sentado sobre los hombros de su padre que lleva maquillaje KISS, que está al lado de su padre, que tiene 50 o 60 años, y él usa maquillaje… Y ese niño hace el gesto de mi mano por primera vez en su vida… Me doy la vuelta y está llorando, porque se da cuenta de que es más que un concierto y es más que canciones, es parte de la vida de las personas. Se tatúan sus cuerpos con nuestras caras, nombran a sus hijos por nuestras canciones. Es una cultura. Es una nación".
El 31 de enero KISS arrancó su gira de despedida "End Of The Road" en Estados Unidos. La formación actual del legendario grupo es la siguiente: Stanley, Thayer, Gene Simmons y Eric Singer. Ex-componentes de la banda como Ace Frehley y Peter Criss podrían hacer algún tipo de colaboración en directo.