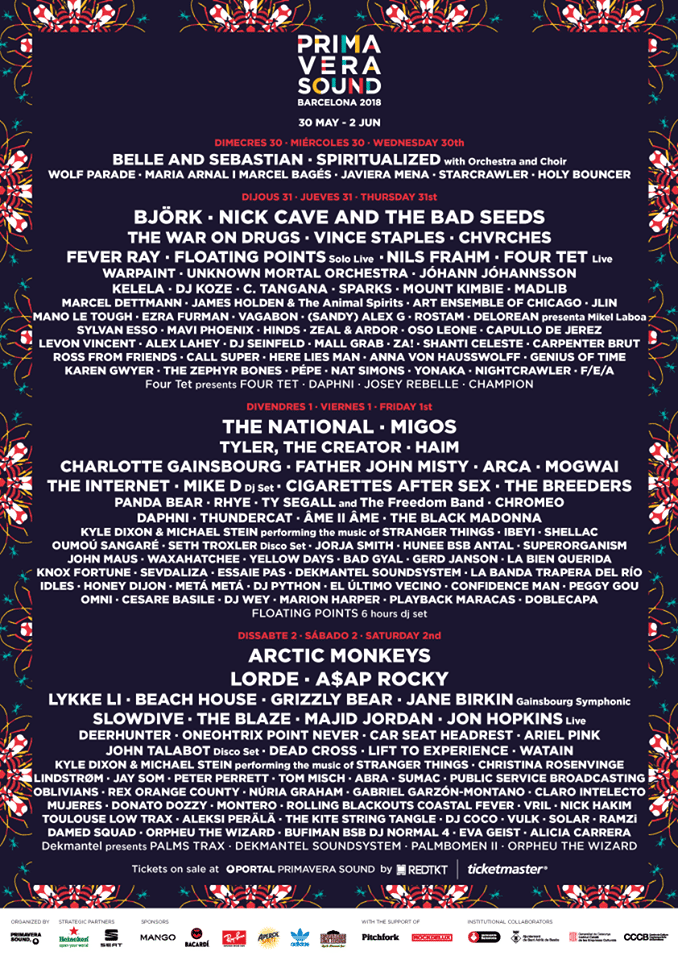 Björk, The National y Arctic Monkeys encabezan una nueva edición del festival Primavera Sound 2018 de Barcelona.
Después de conseguir reunir a más de 200.000 personas en su última edición en 2017, ya conocemos el cartel definitivo de la próxima edición del festival Primavera Sound que se celebrará en la ciudad de Barcelona del 30 de mayo al 2 de junio.
Entre la bandas que integran el line up se encuentran: Björk, Nick Cave And The Bad Seeds, The National, Migos, Arctic Monkeys, Lorde y Asap Rocky.
Como en ediciones anteriores, habrán zonas de acampada, una amplia oferta de comida y bebida en el interior del recinto del Parc del Forum, donde se celebrará el evento y varios escenarios. Aún nos faltan conocer los horarios y el mapa del recinto de conciertos, a si que estaremos atentos.
Abonos ya a la venta desde la web oficial del festival.
[amazon_link asins='B01CSR0ZVQ,B016DGL1OS,B01AIFXE2C' template='ProductGrid2' store='todorockcom-21' marketplace='ES' link_id='204c08d9-0bda-11e8-9252-7bb22a9609e9']
Grupos por días del Primavera Sound 2018
LUNES
GANGES (Primavera a la Ciutat)
KELSEY LU (Primavera a la Ciutat)
THE MEN (Primavera a la Ciutat)
MARTES
THE SEA AND CAKE (Primavera a la Ciutat)
ZA!
MIÉRCOLES
BELLE AND SEBASTIAN (Parc del Fòrum)
HOLY BOUNCER (Parc del Fòrum)
JAVIERA MENA (Parc del Fòrum)
KEDR LIVANSKIY (Primavera a la Ciutat)
MARIA ARNAL I MARCEL BAGÉS (Parc del Fòrum)
MAVI PHOENIX (Primavera a la Ciutat)
MOUNT KIMBIE (Primavera a la Ciutat)
SHANTI CELESTE (Primavera a la Ciutat)
SPIRITUALIZED with Orchestra and Choir (Parc del Fòrum)
STARCRAWLER (Parc del Fòrum)
UMFANG B2B VOLVOX (Primavera a la Ciutat)
WILLIKENS & IVKOVIC (Primavera a la Ciutat)
WOLF PARADE (Parc del Fòrum)
JUEVES
(SANDY) ALEX G
ALEX LAHEY
ANNA VON HAUSSWOLFF
ART ENSEMBLE OF CHICAGO
BJÖRK
C. TANGANA
CALL SUPER
CAPULLO DE JÉREZ
CARPENTER BRUT
CHAMPION Four Tet presents
CHVRCHES
DAPHNI Four Tet presents
DELOREAN presenta Mikel Laboa
EZRA FURMAN
F/E/A
FEVER RAY
FLOATING POINTS Solo Live
FOUR TET Four Tet presents
FOUR TET live
GENIUS OF TIME
HERE LIES MAN
HINDS
JAMES HOLDEN & THE ANIMAL SPIRITS
JLIN
JÓHANN JÓHANNSSON
JOSEY REBELLE Four Tet presents
KAREN GWYER
KELELA
DJ KOZE
LEVON VINCENT
MADLIB
MALL GRAB
MANO LE TOUGH
MARCEL DETTMAN
MAVI PHOENIX
MOUNT KIMBIE
NAT SIMONS
NICK CAVE AND THE BAD SEEDS
NIGHTCRAWLER
NILS FRAHM
OSO LEONE
PÉPE
ROSS FROM FRIENDS
ROSTAM
DJ SEINFELD
SHANTI CELESTE
SPARKS
SYLVAN ESSO
UNKNOWN MORTAL ORCHESTRA
VAGABON
VINCE STAPLES
THE WAR ON DRUGS
WARPAINT
YONAKA
ZA!
ZEAL & ARDOR
THE ZEPHYR BONES
VIERNES
ÂME II ÂME
ARCA
BAD GYAL
THE BLACK MADONNA
THE BREEDERS
CESARE BASILE
CHARLOTTE GAINSBOURG
CHROMEO
CIGARETTES AFTER SEX
CONFIDENCE MAN
DAPHNI
DEKMANTEL SOUNDSYSTEM
DOBLECAPA
EL ÚLTIMO VECINO
ESSAIE PAS
FATHER JOHN MISTY
FLOATING POINTS 6 hours dj set
GERD JANSON
HAIM
HONEY DIJON
HUNEE B2B ANTAL
IBEYI
IDLES
THE INTERNET
JOHN MAUS
JORJA SMITH
KNOX FORTUNE
KYLE DIXON & MICHAEL STEIN performing the music of STRANGER THINGS (Primavera a la Ciutat)
LA BANDA TRAPERA DEL RÍO
LA BIEN QUERIDA
MARION HARPER
METÁ METÁ
MIGOS
MIKE D Dj set
MOGWAI
THE NATIONAL
OMNI
OUMOU SANGARÉ
PANDA BEAR
PEGGY GOU
PLAYBACK MARACAS
DJ PYTHON
RHYE
SETH TROXLER Disco Set
SEVDALIZA
SHELLAC
SUPERORGANISM
THUNDERCAT
TY SEGALL and The Freedom Band
TYLER, THE CREATOR
WAXAHATCHEE
DJ WEY
YELLOW DAYS
SÁBADO
A$AP ROCKY
ABRA
ALEKSI PERÄLÄ
ALICIA CARRERA
ARCTIC MONKEYS
ARIEL PINK
BEACH HOUSE
THE BLAZE
BUFIMAN B2B DJ NORMAL 4
CAR SEAT HEADREST
CHRISTINA ROSENVINGE
CLARO INTELECTO
DJ COCO
DAMED SQUAD
DEAD CROSS
DEERHUNTER
DEKMANTEL SOUNDSYSTEM Dekmantel presents
DONATO DOZZY
EVA GEIST
GABRIEL GARZÓN-MONTANO
GRIZZLY BEAR
JANE BIRKIN sings Birkin Gainsbourg Symphonic
JAY SOM
JOHN TALABOT Disco Set
JON HOPKINS
THE KITE STRING TANGLE
KYLE DIXON & MICHAEL STEIN performing the music of STRANGER THINGS (Primavera a la Ciutat)
LIFT TO EXPERIENCE
LINDSTRØM
LORDE
LYKKE LI
MAJID JORDAN
MONTERO
MUJERES
NICK HAKIM
NÚRIA GRAHAM
OBLIVIANS
ONEOHTRIX POINT NEVER
ORPHEU THE WIZARD
ORPHEU THE WIZARD Dekmantel presents
PALMBOMEN II Dekmantel presents
PALMS TRAX Dekmantel presents
PETER PERRETT
PUBLIC SERVICE BROADCASTING
RAMZi
REX ORANGE COUNTY
ROLLING BLACKOUTS COASTAL FEVER
SLOWDIVE
SOLAR
SUMAC
TOM MISCH
TOULOUSE LOW TRAX
VRIL
VULK
WATAIN
DOMINGO
ARIEL PINK (Primavera a la Ciutat)
THE CRAB APPLES (Primavera a la Ciutat)
DAVE P. (Primavera a la Ciutat)
FERMÍN MUGURUZA ETA THE SUICIDE OF WESTERN CULTURE (Primavera a la Ciutat)
FLAT WORMS (Primavera a la Ciutat)
INTANA (Primavera a la Ciutat)
JOE GODDARD (Primavera a la Ciutat)
KERO KERO BONITO (Primavera a la Ciutat)
MARINA HERLOP (Primavera a la Ciutat)
MATTIEL (Primavera a la Ciutat)
NORTH STATE (Primavera a la Ciutat)
OBLIVIANS (Primavera a la Ciutat)
OLYMPIC FLAME (Primavera a la Ciutat)
PUPUT (Primavera a la Ciutat)
RHYE (Primavera a la Ciutat)
RORY PHILLIPS (Primavera a la Ciutat)
TEXXCOCO (Primavera a la Ciutat)
TIGERCATS (Primavera a la Ciutat)
WAXAHATCHEE (Primavera a la Ciutat)
XAVIER CALVET (Primavera a la Ciutat)