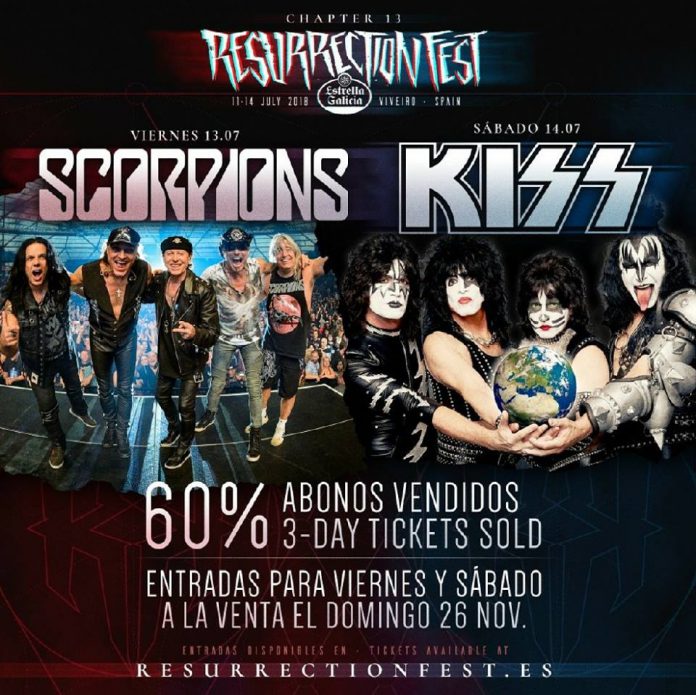 Ya se han puesto a la venta las entradas para el viernes 13 de julio en donde el cabeza de cartel es Scorpions y el sábado 14 de julio en donde KISS hará lo propio. Además de estos grupos, cada día estarán actuando más de 30 bandas en lo que será la edición número trece del Resurrection Festival. Estas entradas tienen un precio único de 85 euros (+ gastos) y ya se pueden adquirir online en la web oficial del festival.
Recordamos que esta nueva edición del festival se celebrará en la localidad de Viveiro (Galicia) del 11 al 14 de julio de 2018 y en ella podremos disfrutar de más de 100 bandas. Estas son las confirmaciones que conocemos a día de hoy:
KISS, Scorpions, Stone Sour, Ministry, At The Gates, Anti-Flag, Overkill, Alestorm, Exodus, Riot Propaganda, Zebrahead, Saint Vitus, Suffocation, Thy Art Is Murder, Cancer Bats, Evergreen Terrace, Stick To Your guns, The Qemists, Leprous, Voodoo Glow Skulls, Rise of the Northstar, Igorrr, Stoned Jesus, Monolord, The Lurking Fear, Rotten Sound, Jinjer, Harakiri For the Sky, Get The Shot, Rolo Tomassi, Mars Red Sky, The Voynich Code, Nostromo, Imperial Jade, The Wizards, Sugus, Dawn Of The Maya, Teksuo, Trono de Sangre, Somas Cure, Bellako, Against The Waves, Malämmar, Ósserp, Ciconia, Aposento, Bloodhunter, Aathma, Ànteros, Santo Rostro, Boneflower, Montañeros de Kentucky y Pandemia.