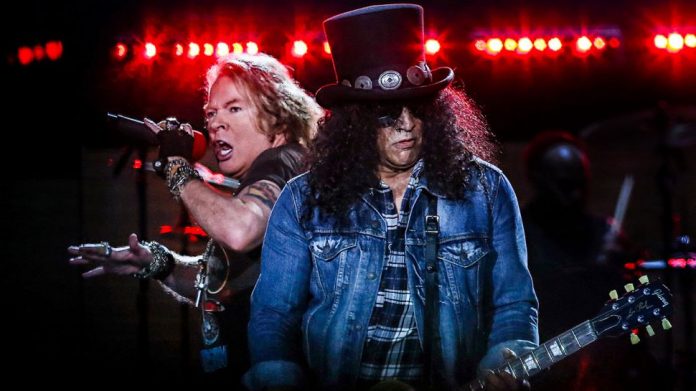 Guns N'Roses han publicado hoy a través de sus redes sociales oficiales un video del popular tema "Welcome To The Jungle" grabado en directo durante su pasada actuación en el Download Festival Madrid.
En el video, grabado a pie de escenario, podemos ver como se las gastan Axl, Slash y Duff sobre las tablas, además de hacernos una idea del ambiente que había durante el concierto de la mítica formación americana:
Welcome To The Jungle LIVE from Madrid, Spain… #AppetiteForDestruction⁠ ⁠: Remastered and ExpandedNow available worldwide at gunsnroses.com

Gepostet von Guns N' Roses am Freitag, 29. Juni 2018
Además de Guns, por la segunda edición del Download Festival Madrid pasaron grupos de la talla de Ozzy Osbourne, Judas Priest, Volbeat y Avenged Sevenfold entre muchos otros, llegando a reunir a más de 100.000 personas a lo largo de las tres jornadas que duró el festival.
Guns N'Roses se encuentran en plena gira europea "Not In This Lifetime" que continua en las siguientes fechas:
Jul 04 – Nijmegen Goffertpark, Netherlands
Jul 07 – Leipzig Festwiese, Germany
Jul 09 – Chorzow Stadion Slaski, Poland
Jul 13 – Moscow Spartak Otkritie, Russia
Jul 16 – Tallinn Song Festival Grounds, Estonia
Jul 19 – Oslo Valle Hovin, Norway
Jul 21 – Gothenburg Ullevi Stadium, Sweden
Jul 24 – Reykjavik Laugardalsvollur, Iceland
Nov 08 – Jakarta GBK Stadium, Indonesia
Nov 11 – Manila Philippine Arena, Philippines
Nov 14 – Kuala Lumpur Surf beach Sunway Lagoon, Malaysia
Nov 17 – Taipei Taoyuan International Baseball Stadium, Taiwan
Nov 20 – Hong Kong Asia World Expo Arena, China
Nov 21 – Hong Kong Asia World Expo Arena, China
Nov 25 – Abu Dhabi Du Arena, UAE
Nov 29 – Johannesburg FNB Stadium, South Africa
Foto portada: Paul Rovere – Getty
Comentarios de Facebook