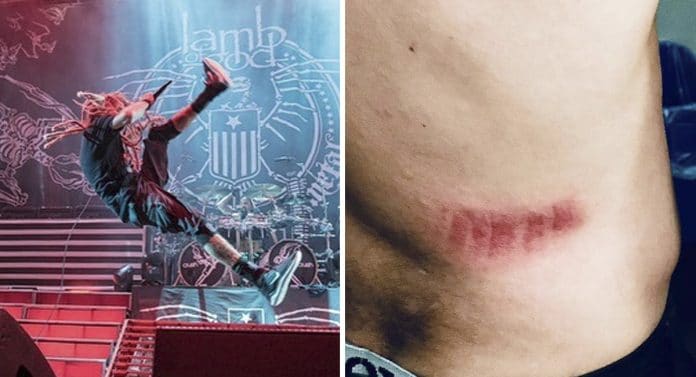 El cantante de LAMB OF GOD, Randy Blythe, se cayó en pleno concierto el pasado viernes 24 de mayo, durante su actuación en Camden, Nueva Jersey (mira el video más abajo en Instagram).
El incidente ocurrió durante la última canción de LAMB OF GOD en el BB&T Pavilion, donde el grupo telonaba a SLAYER.
Blythe ha compartido un par de fotos y un video del accidente a través de Instagram, junto con el siguiente mensaje:
"Soy conocido por ser un frontman energético. Me estoy moviendo constantemente, saltando, escalando encima de las cosas, generalmente corriendo como un pollo rabioso con la cabeza cortada. Siempre he ido a mi rollo, y esto es lo que siempre hacían mis cantantes favoritos".

"Verás, salí viendo bandas como BAD BRAINS y THE JESUS ​​LIZARD. HR y David Yow se calleron del escenario. Así que doy el 110% CADA NOCHE, TODAS LAS NOCHES. Si no haces eso, vete del escenario, maldito debilucho. También tengo 48 años. Eso significa que he tocado cientos y cientos de shows. Eso significa que... las mierda pasa".
La actual gira por Norteamérica de LAMB OF GOD con SLAYER arrancó el 2 de mayo en Phoenix y culminará en el Xfinity Center en Mansfield, Massachusetts el 25 de mayo. LAMB OF GOD comenzará una gira de festivales europeos y fechas como cabeza de cartel el 13 de junio.