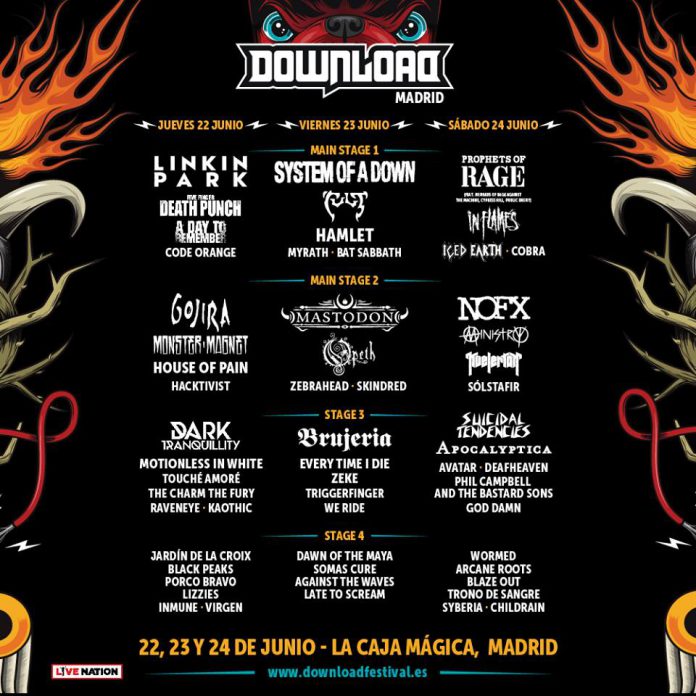 Ya conocemos el cartel definitivo del Download Festival que se celebrará del 22 al 24 de junio en La Caja Mágica de Madrid y en donde participarán bandas de la talla de Linkin Park, System Of a Down, Prophets of Rage, NOFX o In Flames entre muchas otras.
Después de las últimas incorporaciones, el cartel queda distribuido de la siguiente manera:
Jueves, 22 de junio: Linkin Park, Death Punch, A Day To Remember, Code Orange, Gojira, Monster Magnet, House of Pain, Hacktivist, Dark Tranquillity, Motionless in White, Touché Amoré, The Charm the Fury, Raveneye, Kaothic, Jardín de la Croix, Black Peaks, Porco Bravo, Lizzies, Inmune y Virgen.
Viernes, 23 de junio: System of a Down, Hamlet, Myrath, Bat Sabbath, Mastodon, Opeth, Zebrahead, Skindred, Brujeria, Every Time I Die, Zeke, Triggerfinger, We Ride, Dawn of the Maya, Somas Cure, Against the Waves y Late to Scream.
Sábado, 24 de junio: Prophets of Rage, In Flames, Iced Earth, Cobra, NOFX, Ministry, Kvelertak, Sólstafir, Suicidal Tendencies, Apocalyptica, Avatar, Deafheaven, Phil Campbell and the Bastard Sons, God Damn, Wormed, Arcane Roots, Blaze Out, Trono de Sangre, Syberia y Childrain.
Abonos ya a la venta desde la web oficial del festival.